Zelensky condemns Kissinger idea for negotiations with Russia as 1938-style appeasement
• 'They're afraid of us': Ukrainian soldier describes taking down Russian helicopter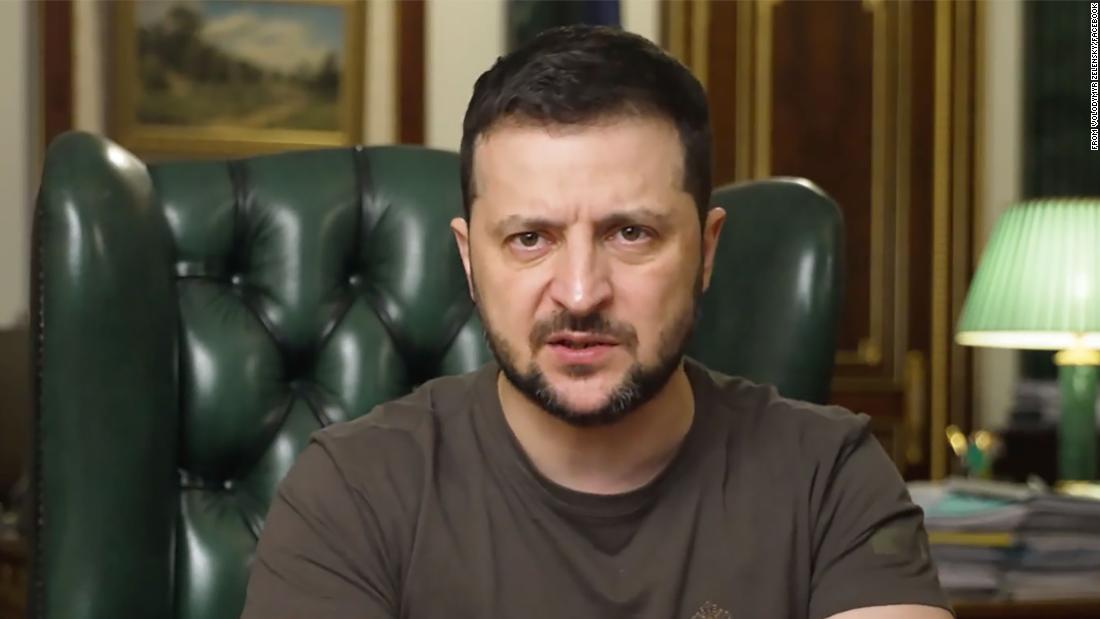 2 hr 39 min ago
Zelensky condemns Kissinger idea for negotiations with Russia as 1938-style appeasement
From CNN's Kostan Nechyporenko and Tim Lister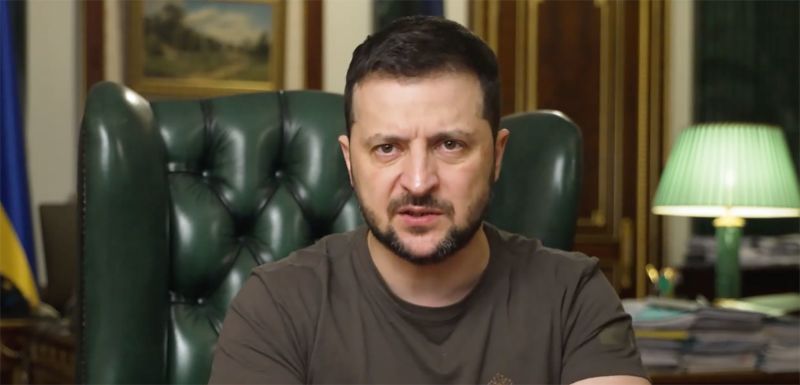 Ukrainian President Volodymr Zelensky has made a blistering attack on former US Secretary of State Henry Kissinger, who suggested on Tuesday that peace negotiations should be aimed at creating borders along the "line of contact" in Donbas as it existed on the eve of the Russian invasion.
Kissinger was speaking by video link to the Davos Forum.  
In a video message Wednesday, Zelensky said, "No matter what the Russian state does, there is someone who says: 'let's take into account its interests.' This year in Davos, it was heard again. Despite thousands of Russian missiles hitting Ukraine. Despite tens of thousands of Ukrainians being killed. Despite Bucha and Mariupol, etc. Despite the destroyed cities. And despite the 'filtration camps' built by the Russian state, in which they kill, torture, rape and humiliate like on a conveyor belt.
"Russia has done all this in Europe. But still, in Davos, for example, Mr. Kissinger emerges from the deep past and says that a piece of Ukraine should be given to Russia."
In his remarks, Kissinger said of the conflict that: "Negotiations need to begin in the next two months before it creates upheavals and tensions that will not be easily overcome. Ideally, the dividing line should be a return to the status quo ante," apparently suggesting that Ukraine agree to give up much of the Donbas and Crimea.
"Pursuing the war beyond that point would not be about the freedom of Ukraine, but a new war against Russia itself," Kissinger said.
Zelensky compared Kissinger's views to appeasement of Nazi Germany in 1938.
"It seems that Mr. Kissinger's calendar is not 2022 but 1938, and he thought he was talking to an audience not in Davos but in what was then Munich," he said. "By the way, in the real year 1938, when Mr. Kissinger's family was fleeing Nazi Germany, he was 15 years old."
Zelensky called those who advise that Ukraine give something to Russia, the "'great geo-politicians,' do not always want to see ordinary people. Ordinary Ukrainians. Millions of those who actually live in the territory they are proposing to exchange for the illusion of peace. You always have to see people."
6 hr 19 min ago
Ukraine condemns Russian move to issue passports in occupied regions
From CNN's Oleksandra Ochman and Nathan Hodge
Ukraine's Ministry of Foreign Affairs condemned a move by Moscow that makes it easier for Ukrainians in some Russian-occupied regions to obtain Russian citizenship.
"Illegal passportization in Kherson and Zaporizhzhia regions, as well as in Crimea and the temporarily occupied parts of Donetsk and Luhansk regions, is a gross violation of Ukraine's sovereignty and territorial integrity, norms and principles of international humanitarian law, and the obligations of Russia as an occupying power in accordance with Article 45 of the 1907 Hague Convention and Article 47 of the 1949 Convention for the Protection of Civilian Persons in Time of War," the ministry said in a statement.
"The decree of the president of Russia is legally null and void and will have no legal consequences. This decision will not affect the citizenship of Ukrainians on the territories temporarily occupied by Russia."
Russia's President Vladimir Putin signed a decree on Wednesday streamlining the process for providing passports to Ukrainians in the occupied portions of Kherson and Zaporizhzhia. 
Russia has already handed out hundreds of thousands of passports to residents of separatist areas in Ukraine's east and in the annexed Ukrainian territory of Crimea, as well as to residents of the breakaway republics of Abkhazia and South Ossetia in Georgia and Transnistria in Moldova. Analysts say those moves have helped Moscow create a pretext for continued intervention in those areas. 
Yevhen Yaroshenko, an analyst for the human rights organization Crimea SOS, said Russia's policy of "passportization" may also serve an agenda of providing conscripts for Russia's invasion of Ukraine.  
"Shortly after obtaining a Russian passport, the Russian Federation may call up such a person for military service and subsequently involve him in combat operations against Ukraine," Yaroshenko said. "Thus residents of the temporarily occupied Kherson and Zaporizhzhia regions become hostages of the call of the Russian Federation."
3 hr 1 min ago
US secretary of state announces joint UK, EU and US group to document war crimes in Ukraine 
From CNN's Kylie Atwood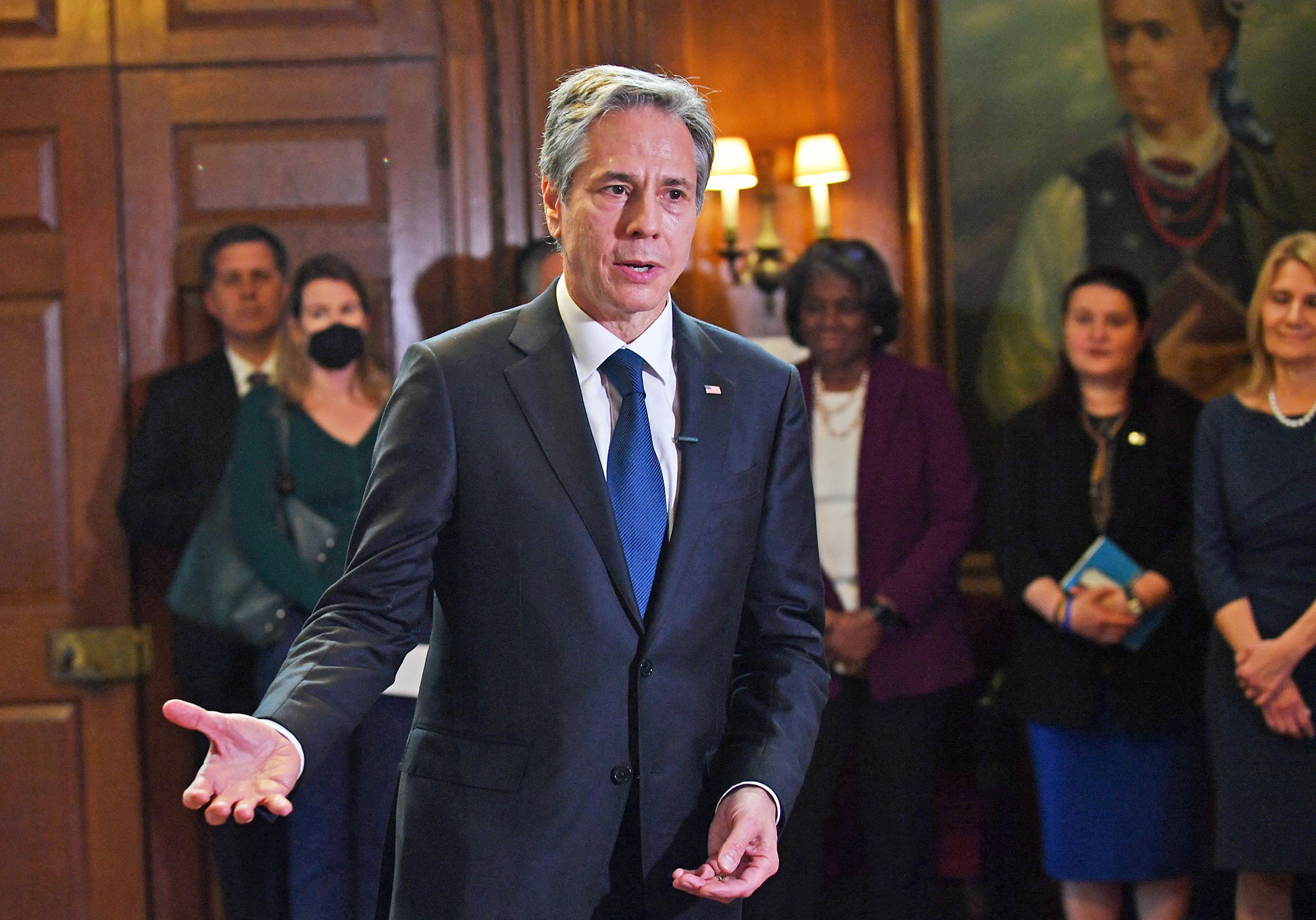 US Secretary of State Antony Blinken announced the launch of a new joint UK, EU and US group to help support efforts of the Ukrainian Prosecutor General (OPG) to document war crimes and other atrocities committed in Ukraine.
The new mechanism, called the Atrocity Crimes Advisory Group (ACA), will "provide strategic advice and operational assistance to the War Crimes Units of the OPG, the legally constituted authority responsible for prosecuting war crimes and other atrocities in Ukraine," Blinken said.
"Although the United States and our partners are supporting a range of international efforts to pursue accountability for atrocities, the OPG will play a crucial role in ensuring that those responsible for war crimes and other atrocities are held accountable."
He added the "ACA will liaise with the Department of Justice as it pursues accountability in US courts."
In addition to streamlining efforts, the ACA will also provide expanded funding for the team of international prosecutors and other war crimes experts already deployed to the region, Blinken said.
Earlier this week, a 21-year-old Russian soldier was sentenced to life in prison for killing an unarmed man in Ukraine's first war crimes trial since Russia's invasion began.
2 hr 49 min ago
Russia blocking Ukrainian ports is "clear blackmail," Ukraine's foreign minister says
From CNN's Lindsay Isaac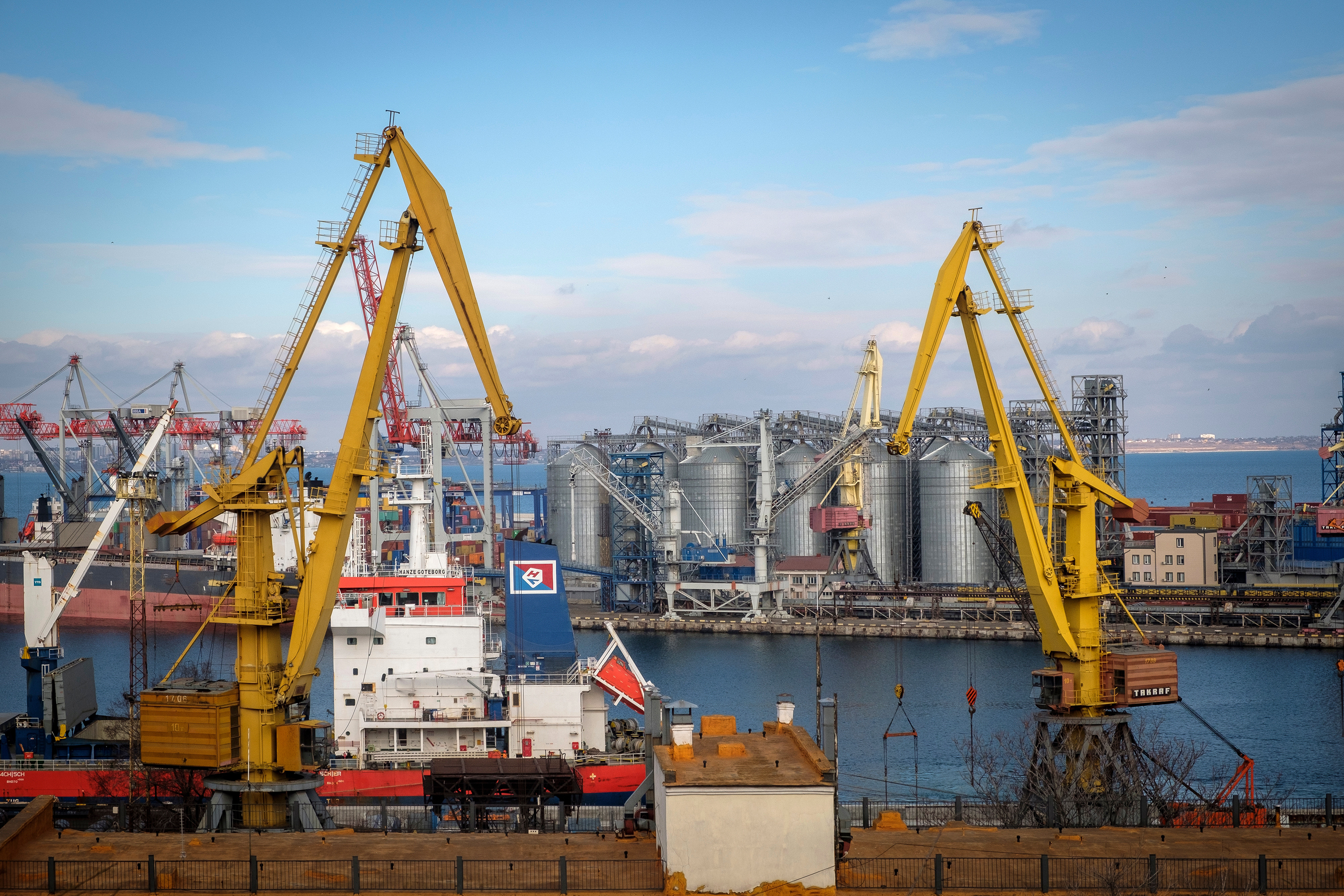 Russia is trying to "blackmail" the international community with an offer to unblock Ukrainian sea ports if sanctions against it are lessened, Ukrainian Foreign Minister Dmytro Kuleba said at the World Economic Forum in Davos, Switzerland, on Wednesday.
This is "clear blackmail," Kuleba claimed. "You could not find a better example of blackmail in international relations." 
He warned that if Russia does not lift its blockage of Ukrainian exports of crops, the entire agricultural cycle will be interrupted and could spur a "multi-year food crisis."
Some background: Before the war,fourth-largest exporter of corn and fifth-largest exporter of wheat, according to the US State Department. Almost 30% of global trade in wheat came from Russia and Ukraine alone.
Speaking at a panel discussion, Kuleba said Russia and Ukraine are nowhere near the possibility of negotiated peace and that Moscow has no intention of taking part in discussions aimed at ending the war. 
"When you are conducting an operation like this, you basically say no to negotiations. If Russia had preferred talks to war, they would have behaved differently," he said.
Making concessions to Russia has not worked since 2014 and won't work now, Kuleba said. 
"This strategy has been used by the leading global forces from 2014 to Feb. 24, 2022. Make concessions here, make concessions here, it will help prevent war. It has failed. Eight years of this strategy has resulted in missiles hitting Kyiv and bloodshed in Donbas," the foreign minister said.
Kuleba called again for further sanctions against Russia, namely stopping the purchase of Russian oil, which he said is keeping Moscow in a comfortable position.
"Ukraine is suffering more than Russia is with the sanctions against it. ... After three months of war, my message is simple: kill Russian exports. Stop buying from Russia and allowing them to make money that they invest in the war machine to kill and destroy," he said.   
2 hr 59 min ago
Russian forces "conducting an intense offensive" in order to take key town, Ukraine officials say
From CNN's Tim Lister and Olga Voitovych
The Ukrainian Defense Ministry has said that Russian forces are "conducting an intense offensive" in order to seize the key town of Lyman in the Donetsk region.
Ministry spokesperson Oleksandr Motuzyanyk said Russian efforts to "completely take control" of Lyman "did not succeed." However, images posted on social media Wednesday showed Russian soldiers at identifiable locations in northern neighborhoods of the town, which Ukrainian forces have defended in the face of an intense assault since late April.
Lyman is an important rail hub, and if the Russians are able to consolidate control over the town, the nearby city of Sloviansk becomes more vulnerable to attack by artillery — and Ukrainian troops to the southeast of Lyman become more at risk of encirclement.
Motuzyanyk added, "The enemy is conducting offensive operations, trying to surround our units near Lysychansk and Severodonetsk and reach the administrative border of Luhansk region."
On Tuesday, the head of the regional administration in Donetsk, Pavlo Kyrylenko, described the situation in Lyman as "very difficult."
"It's now under constant fire," he said. "The enemy entered the territory of the Lyman community a long time ago. Their main goal is to take the center of the community of Lyman. The estuary is now partially under control, they enter, then they are kicked out, heavy artillery drives in, and tanks enter the outskirts of the city to conduct shelling and occupy the entire center and the entire Lyman community."
The Institute for the Study of War reported in its latest assessment Tuesday that Russian forces continued to "prioritize attacks against Lyman rather than Slovyansk on May 24, likely to support a shallow encirclement of Ukrainian troops northwest of Severodonetsk."
2 hr 58 min ago
European Council chief "confident" Russia oil ban issues will be resolved by next meeting on Monday
From CNN's Niamh Kennedy in London 
European Council chief Charles Michel is "confident" that any issues over a proposed ban on Russian oil imports will be resolved by the next council meeting on May 30. 
Addressing a news conference alongside Swedish Prime Minister Magdalena Andersson in Stockholm on Wednesday, Michel said that although he was "still confident" the bloc will be able to resolve any issues, it will require "a lot of dialogue." 
"We are working very hard in order to be able to stay united," Michel stressed. 
The Swedish prime minister publicly declared the country's desire "to go further" with sanctions against Russia. 
The proposed ban has been largely opposed by Hungary, which has said that such a measure would be "against Hungarian national energy security."